How do I know if I'm still part of a Team Premier Plan?
To determine whether you are still part of a Team Premier plan, follow the steps below.

1. Log into your account.

2. Click your user badge (

) in the upper right corner of the page.
This displays your user menu. If you are part of a team you will see Team Member just below your email address, as well as the name of the team you are a member of.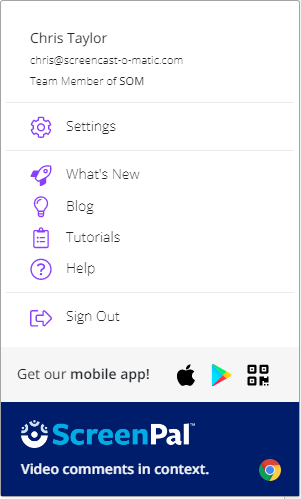 Related Articles

Premier Hosting and Homepage setup for Solo & Team Premier subscribers

Premier Hosting Settings Premier Hosting allows subscribers to personalize their viewer's experience. Channels and homepages can be fully customized with your branding. Branding options can include company name, company logos, video player colors, ...

How do I join my Team Plan?

If your organization purchased a Team Deluxe Plan, you will get access to Screencast-O-Matic tools from the unique access URL that your Team Deluxe Administrator has set up for users within your team. This unique access URL typically looks like ...

Team Admin: How to Add Users to Your Team Plan

Definitions Team Creator: A team member who has license access to the capture and editing tools and associated Team Plan features. Creator licenses are use-based (not user-based). This means that licenses are consumed only when a Team Member launches ...

I have a solo plan, but I'm still being asked to upgrade!

To access the paid features, quit the desktop application. Log in to the Screencast-O-Matic.com with the email address used to complete your purchase. Then, launch the screen recorder, screenshot tools, or video editor. You can launch the tools in ...

Add or remove an Admin on a Team Plan

Add Account Admins To add an Admin to your Team Premier Plan, follow the steps below. Log into your Screencast-O-Matic account as an Account Owner or Admin. Click your user badge in the upper right corner () and then select Settings. Click Company ...