Use ScreenPal with Google Docs, Google Sheets, and Google Slides
Google Docs, Google Slides and Google Sheets allow you to insert comments into your working project and for comments ScreenPal works great. Quick, personalized video comments can be very effective when collaborating on a project. If your colleague also has ScreenPal, the over over video preview makes the team even more productive.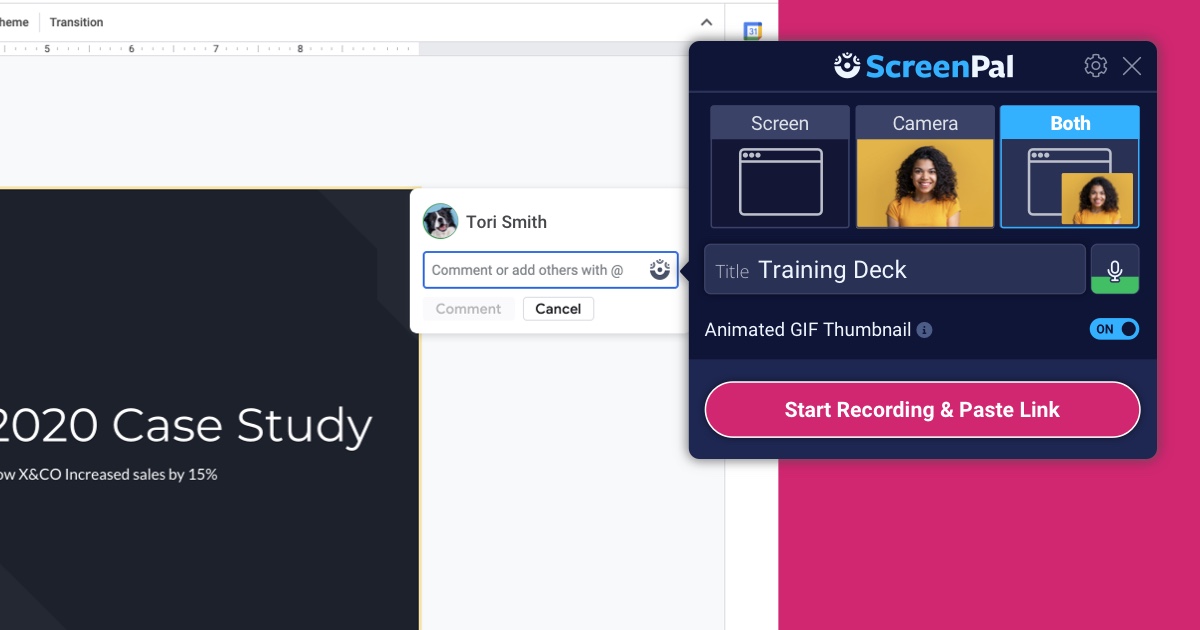 Although you can insert text into Google Docs and Google Slides, these text boxes use technologies that prohibit ScreenPal from working correctly. You will not see the ScreenPal icon appear in a Google Slides or Google Docs text box as we have disabled this feature for the beta. We are working on a solution and hope to have this capability in the future. For Google Sheets, we have disabled ScreenPal in cells as the experience would be distracting if ScreenPal appeared in every cell you were editing.
Related Articles

Install ScreenPal Extension

​Installing in Google Chrome: Visit Chrome Web Store here. Click on "Add to Chrome" Once installed, you will see the ScreenPal icon in web based text fields. Installing in Microsoft Edge: Visit Chrome Web Store here. Click on "Add to Chrome" Once ...

When to use our tools

Screencast-O-Matic helps you capture video on all of your devices with the Desktop screen recorder, the ScreenPal Chrome extension, and our mobile applications. Below is a brief explanation of each platform to help you determine when to use each one! ...

ScreenPal: My webcam or mic isn't working on Windows

If you are on a Windows Operating System and your webcam or mic is not working from the ScreenPal setup screen (after clicking the ScreenPal icon in a text box), you may not have enabled Chrome permissions for these devices when you installed ...

Google Workspace SAML integration

Google Workspace SAML integration Google Workspace serving as an Identity Provider (IDP) can provide your users with single sign-on (SSO) access via Security Assertion Markup Language 2.0 Standard (SAML) to our Recorder and Video Editor under your ...

Use a custom domain (CNAME)

Using a custom domain When you have a Solo Premier, Solo Max, Team Premier, Legacy Business or Education Team plan, or are using our Recorder API, you can use Screencast-O-Matic to host your content and configure it as a subdomain (for example, ...