How to enable the ScreenPal recorder on a site
By default, ScreenPal works on most sites, but on some sites we are continuing to polish the experience. For those sites, we may configure the default setting to disable the ScreenPal screen recorder. You can re-enable the recorder by visiting the extension menu in your Brower and moving the slider to On.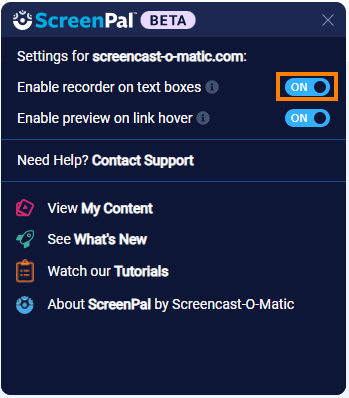 Related Articles

How to enable ScreenPal Video Preview on a site

ScreenPal Video Preview is a great feature to experience videos without having to leave the site you are visiting. When you hover over a video link (or ScreenPal thumbnail) a preview appears and autoplays the video. The preview feature will work ...

Install ScreenPal Extension

​Installing in Google Chrome: Visit Chrome Web Store here. Click on "Add to Chrome" Once installed, you will see the ScreenPal icon in web based text fields. Installing in Microsoft Edge: Visit Chrome Web Store here. Click on "Add to Chrome" Once ...

Hide and Show ScreenPal on websites

You can control showing or hiding ScreenPal on specific websites. To hide ScreePal on a specific website, begin by hovering over ScreenPal icon. Then, click on the "X" for the option to hide. Once clicking on "Yes hide on this site", it will not ...

ScreenPal: My webcam or mic isn't working on Windows

If you are on a Windows Operating System and your webcam or mic are not working from the ScreenPal setup screen (after clicking the ScreenPal icon in a text box), you may not have enabled Chrome permissions for these devices when you installed ...

How to setup macOS Permissions for recording with ScreenPal

The ScreenPal recorder runs inside the Google Chrome web browser which needs access to these resources on macOS to make recordings: Screen Recording Microphone Camera Steps to enable access: 1. Choose Apple menu > System Preferences 2. Click ...