Importing videos from my phone library
You can import videos directly from your phones' video library so that you can edit those videos and share. Touch the Import button on the upper left of the app screen and then select you video to import.
Having trouble importing?

Make sure that your videos are saved in a compatible format.

On iOS, you can access your camera settings by visiting, Settings > Camera > Formats and choose "Most Compatible".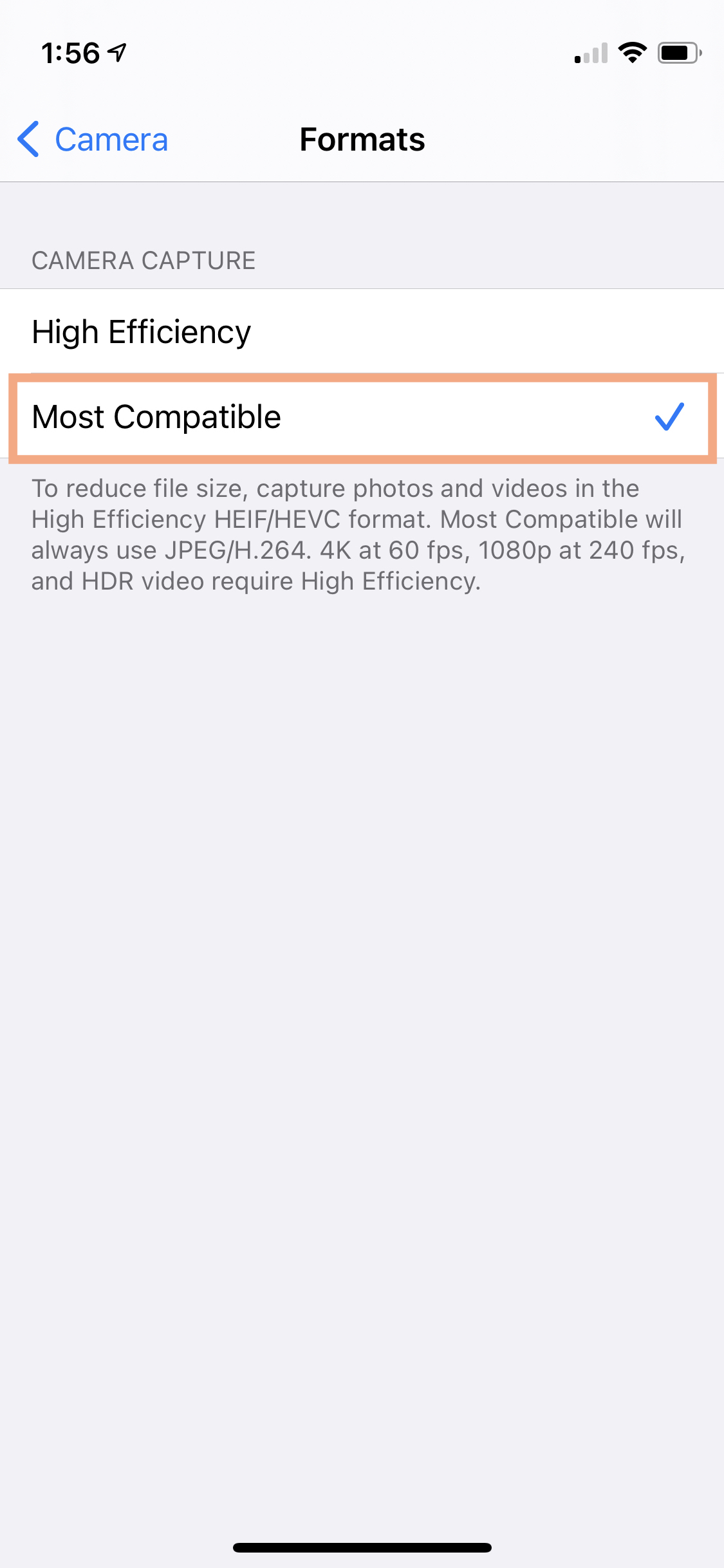 The settings vary on Android devices, but they are typically in the camera app. The Screencast-O-Matic app cannot import videos that are saved in High Efficiency (HEIF or HEVC
) mode. You'll want to choose JPEG/H.264 or Most Compatible.
Related Articles

Where are my videos located?

Desktop: You can access your videos from your browser, or your local computer. To access your videos within your browser, log into your Screencast-O-Matic.com account. Click My content at the top of the page to open your content library and click ...

How do I combine two of my recordings or videos?

When you work on a video project, often you want to use multiple sources of content. You may have screen recordings and other video content that you need to combine to complete your project. You have several options for combining videos and ...

Where are my videos and images on Screencast-O-Matic.com?

We do not automatically upload videos to Screencast-O-Matic.com. Your hosting account will only contain the videos that you have uploaded. First, verify that you are logged into the Screencast-O-Matic.com account that you have uploaded videos and ...

Do you provide phone support? What number can I call?

Screencast-O-Matic does not offer phone support. Why? Simply put, phone support is not the most efficient way to help you. We provide email support because it allows us to exchange links, share log files, and dive into your account history. Plus, we ...

Sharing videos and screenshots published to Screencast-O-Matic.com

 Sharing content published to Screencast-O-Matic.com If you've published videos to Screencast-O-Matic.com you can also share them by going to your list of uploads. Hover your mouse over the video you'd like to share and click Details button. This ...