Manage video projects

The Screencast-O-Matic application has a robust set of features for managing your local video projects. This article talks about how to use the Manage Video Projects check box to make multiple selections and perform actions in bulk on your library of videos. You may also like to watch our video tutorial for managing recordings.

First, open the video editor from the account page (you must be logged into Screencast-O-Matic first). When you see your list of recordings, click on Manage Video Projects in the upper left.

When you select the Manage Video Projects check box, several options are displayed.


Click All to select all the content in your current content folder (shown in the top left of the application).

Select None to deselect all content.

To choose a selection of recordings, begin clicking on individual files in the content library. You will see selected recordings are displayed with a blue outline.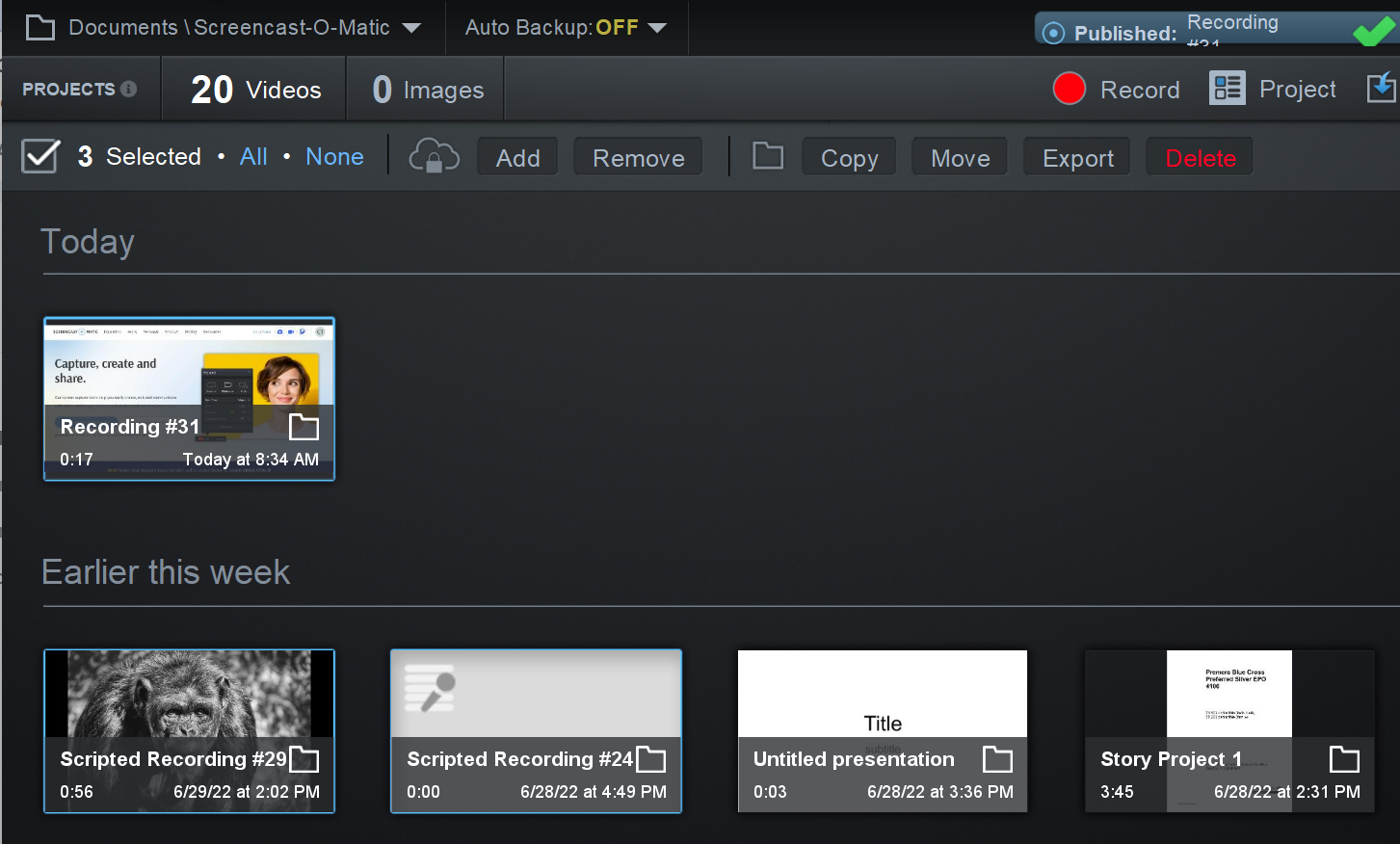 As you choose more recordings, the total number of selected recordings shows in the upper left as
# Selected
(

).
Use the controls displayed in the tool bar to perform a number of actions on the selected files.
Add - Adds a backup of the selected video projects to your secure online storage. See more about backup and restore.

Remove - Removes the selected video projects from your secure online storage.
Copy - Makes a duplicate copy of the selected recordings and places them in the chosen content folder on your computer.

Move - Moves the selected recordings to a different content folder on your computer.

Export - Exports the selected recording files as .somrec files to a local folder of your choosing.

Delete - Removes recordings and content from your computer. Note that performing this action does not remove backups of the video project in your secure, online storage.