Team Plan Admins: Enable or Disable Upload Endpoints for the Screencast-O-Matic App

The Screencast-O-Matic desktop application allows a user to publish their recording to a video file or upload their recording to services including Screencast-O-Matic, Youtube, Google Drive, Vimeo, and Dropbox. As an admin, you may choose to remove upload endpoints presented in the app for your users.

An admin may find and modify these settings from the Team Feature Access page in Settings.

Following are the services you can enable/disable as a destination for publishing:

Dropbox

Google Drive

Screencast-O-Matic

Vimeo

Youtube

Video File (i.e saving to local device)

This feature is available to all admins with a Team Plan.

Please note: at least one destination must be enabled or your team members will not be able to publish their content.
Enable or Disable Publishing Endpoints

1. Login at Screencast-O-Matic.com, click your user icon and then click Settings.

2. On the left sidebar, ciick Team Feature Access then the pencil icon on your Feature Access Default settings or any Customer Access Page.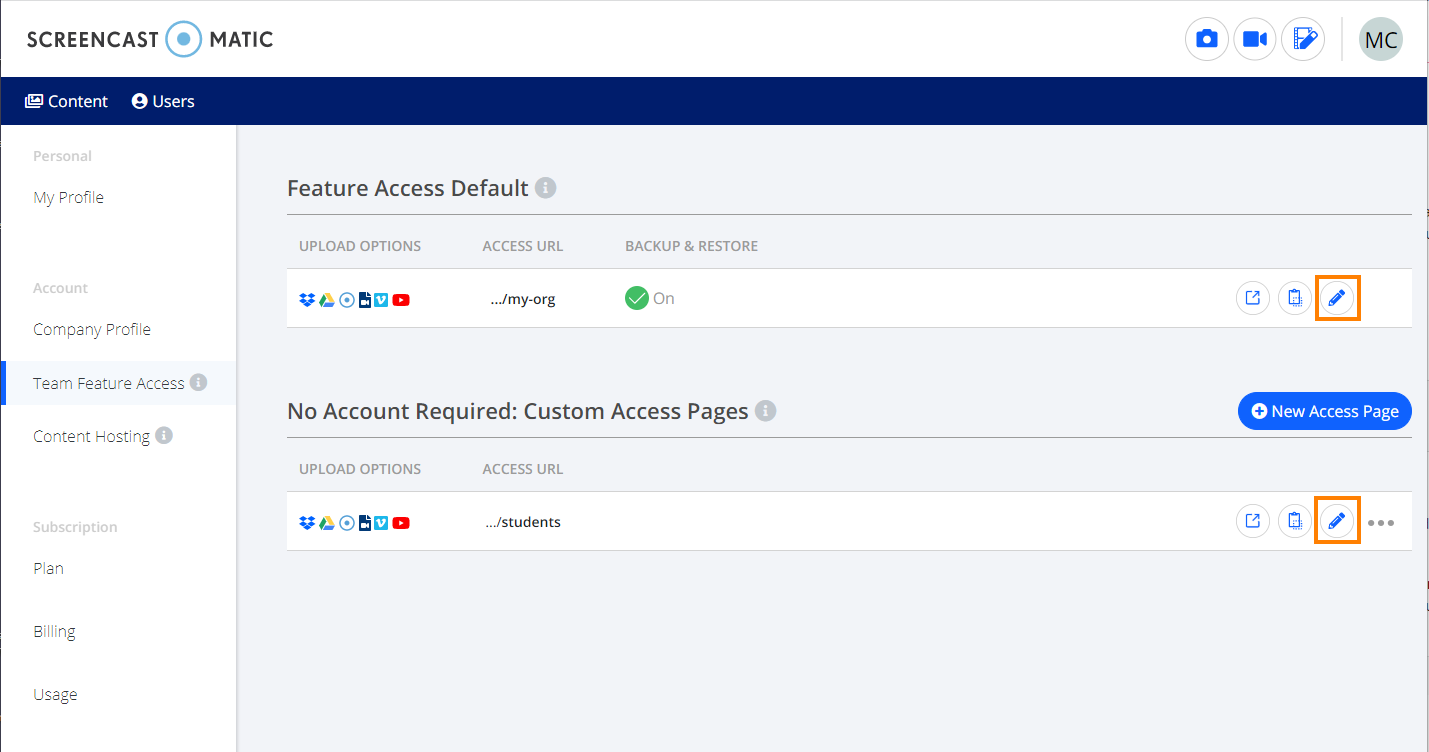 3. Remove the checkmark next to the endpoints that you want to disable. Disabling an endpoint means those options will no longer show up in the lower right menu in the desktop application when previewing a recording.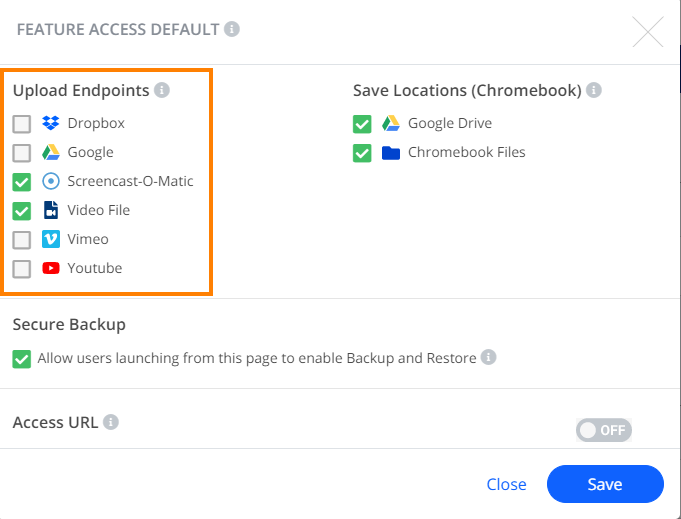 4. Click Save.



Verify the endpoints are enabled or disabled

You can verify the endpoints are disabled by doing the following:

Go to your team access page or login as a Team Member and launch the recorder or open the video editor.

Either create a new recording or click on one in the Project Manager screen and you will enter a preview mode for the recording.

On the lower right, you will see a menu with options for uploading or downloading the file. If you don't see these options initially, you can click the icon to bring up the complete list of publishing options.

Verify that your selected endpoints are enabled or disabled in this publishing menu. The menu may look similar to the menu below:

Only the options with a checkmark placed next to them in the settings should show in the desktop applications publishing options. All others will be disabled and hidden from the menu above.