SAML
SAML enables SSO through the use of your organizations login so you don't have to create a separate login account with Screencast-O-Matic. SAML is especially convenient for larger deployments and when your team users are transient (i.e. they join or leave your organization) as it enables you to grant or remove rights to Creator Licenses using SAML authorization. SAML setup is covered in separate articles and can be setup directly by the Admin in Settings. See articles.

Users Tab
After logging in as Admin, click the Users Tab where you will see two options to add users:

New User Button:
When you click the
+New User button you have the option to add users by email address or send a link for users to sign up to your Team account.
1. Invite Link: you can send a unique invite link associated with the Team Plan to invite your Team to join your Plan. When they visit that link they can either sign up for a new account or login with an existing account to join your Team.

If you check "Automatically Accept Requests to Join", once the user has registered with your Team Plan their status will show as Approved in the Admin Users Tab and no more action is needed. Otherwise their status will show Pending and in this case c
lick the drop down to approve the user as part of your team: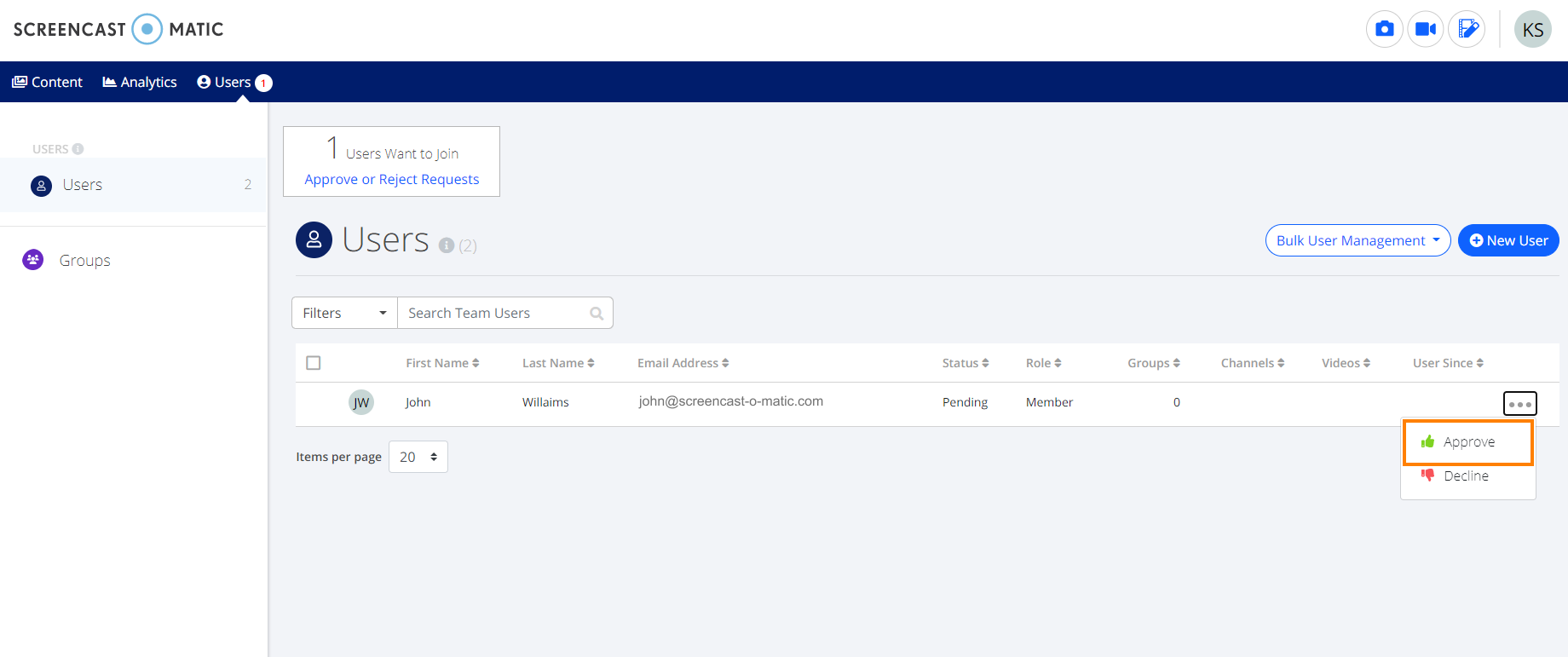 2. Email invite: this can be convenient when adding users for small teams or adding another user after your Team account has already been established. When you add users directly via email they are approved immediately but will have status as invited until they accept your invitation.


When the invited user receives your email invitation they can click the accept button and either create a new account or if that email is already registered login with their existing account.
Bulk User Management:
When you click the Bulk User Management button you have an option to select Bulk Import Users.
Click this option brings you to a page with instructions for bulk import:

1. Download csv template and populate file with your users data: you can download the csv template to your computer and then add your users data including adding users to groups (if the group is not created we will create one at upload) and creating folders for each user.

2. Upload your csv file and add your users: once your user data has been populated, you can upload the csv file and review your data for any errors. You can choose to fix the errors and upload a new csv file or ignore the errors and upload all valid user rows from the file.